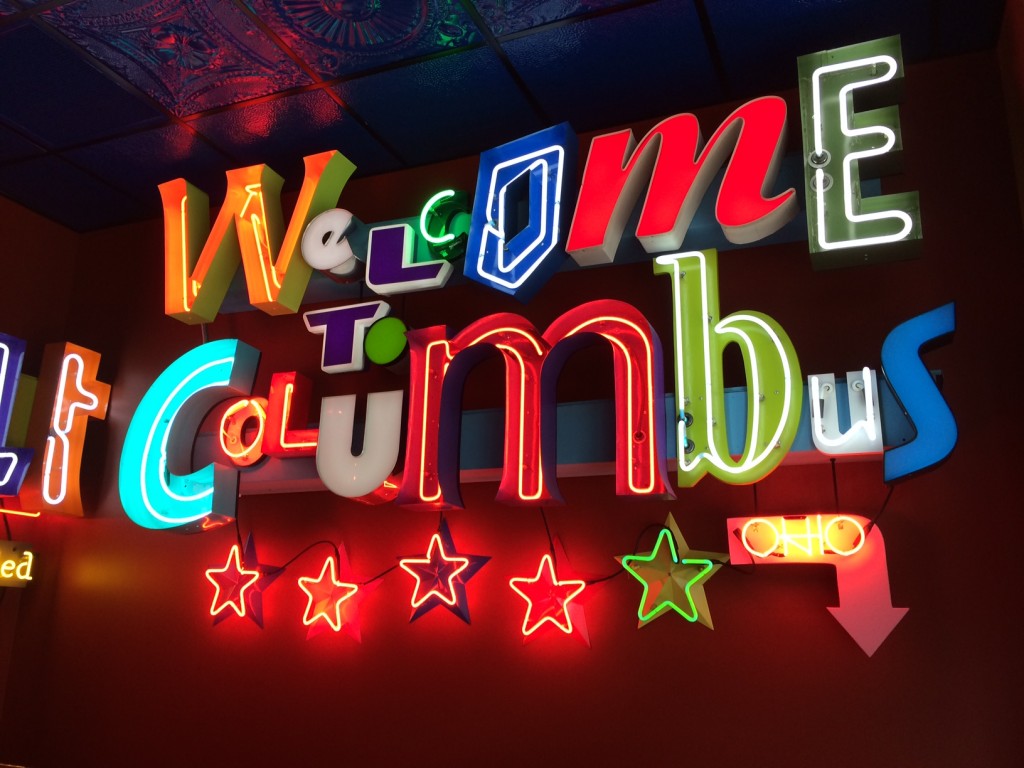 Since moving to Columbus in February 2014, I've developed quite a love affair with this place.  It's easy to love.  Columbus is one of the most likeable, authentic, friendly places I've lived.  Here are a few highlights so far that I thought I'd share with those of you who may be new to Columbus or may be looking to see this city with fresh eyes.  This is a work-in-progress and by no means a full list because I know there are lots of cool places I'm not including or haven't experienced yet; I intend to provide updates as the adventure continues.
Movie Theaters
Drexel – Theater in Bexley.  I saw The Grand Budapest Hotel here.
Gateway Film Center – Theater near Ohio State that shows mainstream and indie films and does beer tastings + screenings. Lots of cool screening series here like Documentary Week, etc.
Ohio Theatre – One of the most beautiful places of all to see a movie; they have an awesome summer movie series.
Studio 35 – Theater in Clintonville that does occasional beer tastings + screenings.  They get extra credit in my book for hosting a beer tasting + screening of Pee-wee's Big Adventure.
Wexner Center for the Arts – Performing arts center on Ohio State's campus that shows lots of cool indie films and also brings visiting filmmakers to town.
Coffee
Caffe Apropos – European-style coffee shop that serves wine and beer in addition to coffee; great spot to chill.
Cup o Joe – Local coffee chain with numerous locations in Columbus.
Mission Coffee – Fun, funky local coffee shop near High Street; they're serious about their coffee.
Stauf's – One of my favorite coffee shop in Columbus; it's spacious, open late, and located on Grandview Ave. in the heart of Grandview.
Restaurants, Food, Drinks
16-Bit – Arcade bar with all kinds of vintage arcade machines that are all free to play.
Aab – Quality Indian restaurant with two locations: Grandview and Dublin.
Dirty Frank's – A fun 80s/90s themed hot dog restaurant with all kinds of decadent dogs.  How many places can you go with paintings of Hall & Oates and Michael Jackson on the wall?
Northstar Cafe – one of the local treasures; they have a few locations, including Easton and the Short North; great for breakfast/brunch too
Old Mohawk – Cozy neighborhood pub in German Village with awesome food.  Famous for their turtle soup.
Rambling House Soda Pop Brewery – Cool community gathering place serving up homemade soda pop straight up or in mixed drinks and local brews.  Live music in a cool, inviting space.
Schmidt's – A Columbus institution in the German Village; it's a German restaurant that makes their own sausages; a few nights during the week, they have live polka music.
Seventh Son Brewing Co. – Popular local brewery with a cozy vibe.
Surly Girl Saloon – Fun Western themed bar/pub/restaurant.  Their Frito Pie rocks!
Thurman Cafe – Serious burgers.  Not for the faint of heart.
Tip Top – Gotta try the pot roast here!
Dessert
Jeni's Splendid Ice Creams – Columbus's very own, now with locations in Chicago, Atlanta, and elsewhere.  Can't beat the Buckeye State flavor, but it's best to have a sampling of several flavors before deciding.
Pistacia Vera – Don't miss the macarons at this place!
Shopping
Big Fun – Vintage toy store with lots of '80s and '90s toys.
Bink Davies – Local gift shop with locations in the Short North and at Easton.  It's a great spot to explore for all of their Ohio-themed gifts and t-shirts.
Homage – Local t-shirt shop with cool vintage tees.
Miscellaneous
Book Loft – 32 rooms!  This is one of the craziest and largest bookstores I've been inside; it's in a house in the German Village and feels like a maze inside with all of its rooms.
Goodale Park – One of the oldest parks in the country, founded in 1851.  It's downtown, near High Street.
North Market – Downtown public market with restaurants, fresh produce, etc., etc.  Goes back to 1876.